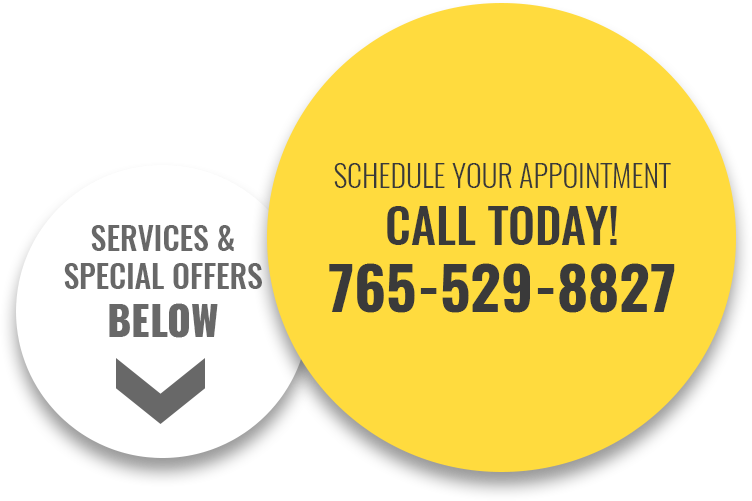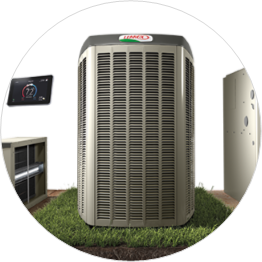 Staying cool in the hot Indiana summer months is a must and our team can help make sure your cooling system is running efficiently to keep you and your family comfortable. Whether your current system needs some general maintenance or a larger repair, we'll have you covered. See the services below that we offer through our cooling department.
All of our services are provided by professionally licensed and trained technicians. We provide upfront pricing and guaranteed satisfaction on all our work. Many services and products are available the same day.
Air Conditioning Units
Replacing your old cooling system may be more affordable than you think. We can arrange for one of our technicians to visit your home at a convenient time to discuss your cooling needs, show you a range of brands and models and their features and benefits, and provide you with a free estimate on the best new system to suit you and to fit your budget.
With our trained technicians performing a new installation, you can be sure you'll get the best out of the new investment for your comfort. Our technicians will professionally install your new system, ensuring the best location for optimum comfort, efficiency and performance.
We can also show you the benefits and savings of an energy efficient system as well as tell you more about energy efficient upgrades and add-ons that could improve your current system.
Our technicians are available to get to you fast and drive fully stocked service vehicles to ensure they have parts & equipment to perform your repair quickly. Our technicians are also trained in servicing and installing ductless air conditioning systems.
Duct Cleaning & Sanitizing

Benefit from a comprehensive duct cleaning service with removal of debris as well as pollen, mildew, mold and other harmful airborne particles from within your duct system. We have purpose-made equipment for ridding your duct system of all sorts of undesirables. We can also perform disinfecting and deodorizing services for your duct system.
Thermostats
The EPA recommends digital programmable thermostats as an energy efficiency tool. This makes it useful on extreme weather days as you can program your system to switch on to your desired temperature before you're due to arrive home from work or before you rise for the day, rather than leaving your system running all day or night just so you can arrive or wake to a pleasant temperature. You can also preset a desired temperature and when that temperature is reached, the system shuts off and only restarts to maintain your set temperature.  We can upgrade your current heating or cooling system with a professionally installed digital programmable thermostat providing you with greater control, greater energy efficiency and all whilst maintaining your level of comfort.
Air Purification & Filters
With a professionally installed HEPA filter you can remove as much as 99.7% of all harmful airborne particles including mold spores, dust, pollen and dust mites from the air inside your home.
Humidifiers & Dehumidifiers
We can help you control the humidity levels inside your home. Whether it be too much humidity or not enough, we can professionally install the perfect humidity control solution. Humidity defines how we feel temperature and measures how much moisture is in the air. The effects of high humidity in the home include condensation on windows or the presence of dampness. Low humidity is when not enough moisture is present in the air and can lead to the air being harsher to breathe. Controlling the humidity levels can also have an additional benefit of keeping your heating and cooling costs down.
Fan/Coil Units
Broyles can evaluate your needs and recommend quality fan and coil units that are properly sized and professionally installed.
Refrigerant Piping
Broyles can evaluate your needs and recommend the correct refrigerant piping and our technicians can professionally install it for years of trouble free service.
Fresh Air Systems
Fresh air systems automatically control the input of fresh air into your home to help maintain a healthy balance. Since indoor air can be 100 times more polluted than outdoor air, it is important to continuously maintain air exchanges within the home. New energy efficiency requirements have tightened homes to the point that fresh air ventilation cannot be assumed, it must be managed.  A Broyles technician can properly evaluate your homes fresh air needs and offer solutions that assure indoor air quality in your home.
Power Roof Ventilators
It's a fact that heat rises, and your attic is the highest spot in the house. On an eighty-degree day, your attic temperature can exceed 100 degrees, which can damage the major house components that may be located in the home's attic. Attic fans make a significant difference in energy costs and in the life expectancy of major components such as insulation, venting, plumbing and electrical wiring. This is why most new homes are built with whole house fan systems that keep heat from building up in the attic.
According to energy.gov, ventilation is the least expensive and most energy-efficient way to help cool your home.
Today's attic fans use very little energy. Since the attic acts as a "buffer zone" between the interior of your home and the outside world, it's important to regulate the temperature in this zone to maintain a consistent temperature in your living space. In fact, attic fans can:
Reduce second floor room temperatures by as much as 15 degrees
Lengthen the life of roofing materials and major home components
Save up to 30% on home air-conditioning costs
Attic Insulation
Insulating your attic space is a great investment for your home. Heating and cooling account for 60% of the energy used in the average home. If your home is uninsulated or under-insulated, you will be spending more than you should to heat or cool your home. According to the Environmental Protection Agency, you can save an average of 30% on utility costs by insulating your home's attic space.
A very common reason for adding insulation is comfort. A home that is under-insulated is more vulnerable to outside temperature. Heat naturally flows from hot to cold. This means that depending on the outside temperature you may be experiencing hot/cold and uncomfortable rooms due to heat displacement.
Insulating your attic space can prevent physical damage to your home. It prevents any moisture from seeping in and eroding your home's framing and walls. In the winter, the rising heat in your attic might lead to melting snow on a roof, which can then lead to ice dams. Ice dams and moisture issues can do serious damage to your home, especially the roof. If you have condensation or moisture inside your attic, it may be a symptom of insulation issues.
Heating and cooling equipment can be one of the most expensive purchases you make for you home. A new modern sealed combustion furnace could cost over $6,000! One of the most important aspects of attic insulation is it allows your heating and cooling equipment to run less often. If your home's insulation retains indoor temperature, your heating and cooling equipment gets a break. However, if your attic space is under-insulated then your heating and cooling equipment will need to run more often, to keep up with your home's set temperature, causing the wear and tear to be more significant.
Mention a current offer to your technician to redeem!
Terms and conditions may apply - ask your service technician for more details.
---
Request Service Today!
Contact us today to learn more about how we can help you with any of your plumbing needs.